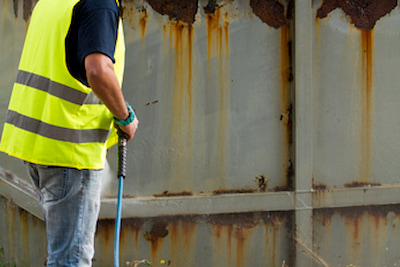 The ProWash Exteriors company may be new, but our experience taking care of pressure washing isn't, including specific services like rust removal. Huntsville customers know they can rely on us for superior service and results.
We're specialists taking care of niche services that other companies won't even touch. We are dedicated to the industry and committed to providing excellent customer service.
When you need a quality clean for the outside of your business, we want you to know that you can trust us. However, when you're in need of specialty tasks like rust removal, we hope you'll know there's no other company in the areas that's better equipped for the job.
Letting Our Pros Remove Rust From Your Metal Structures
There's more to power washing for commercial facilities than just knocking down the dirt. From graffiti removal to rust removal, professional exterior cleaning can have profound consequences.
Metal structures have numerous benefits, including strength and durability. However, one downside is that they develop rust.
Make the wise decision to work with our team to get the service that you need to deal with and resolve your rust issue. By letting us professionally rid your rust, it can help with:
Longevity of the Structures
Increase the Property Value
Enhance the Curb Appeal
Improve Safety Conditions
Remove Unsightly Stains
Each day you ignore your rust problem and let it worsen; it makes it more of a challenge to reverse the issues. We want to get you on a regular schedule to help reduce the chances of developing severe and possibly irreversible rust problems.
Dealing With Rust Before it's Too Late
No matter what, rust on metal surfaces is practically inevitable. Being on the watch for it and dealing with it when it occurs will make all of the difference.
Rust is a chemical reaction that leads to more severe complications, like the formation of corrosion. What starts off as annoying flakes of rust will eventually lead to a complete breakdown.
However, savvy business owners take action to avoid the problem from worsening. To put it simply, rust is a reaction called oxidation and nothing to be ignored.
Rust forms as a result of exposure to water and oxygen, so avoiding this type of exposure is impossible. Preventing scratches, using a protective sealant, and other measures can minimize the chances of rust development.
However, once it begins to form, you need professional help. Give ProWash Exteriors a call, and we'll take care of your need for rust removal for your Huntsville commercial structure.
---