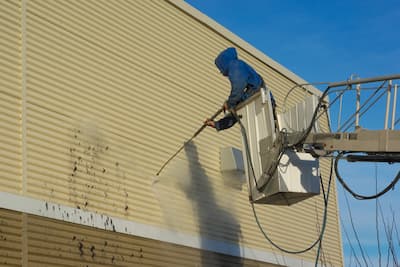 ProWash Exteriors is proud to be one of the few local Huntsville specialists for graffiti removal. Once your building has been tagged, it's likely to attract more.
Plus, without expert pressure washing to take care of it, prospective customers may wonder about your business. Graffiti is often a sign that means the shop is closed, and the building is abandoned.
Your customers could be giving up on you before you've even had a chance to win them over. When you need graffiti removal, act fast, and let us take care of expert exterior cleaning for you.
Hiring Graffiti Removal Services for Your Local Area Business
Have you noticed how the outside of your commercial building looks? Have you neglected essential services like parking lot cleaning and graffiti removal?
It often takes something like an act of vandalism to notice the true condition of your building's exterior. As soon as you notice someone has spray painted the outside of your building, it's time to get it cleaned up, and reap the benefits:
Discourage Future Acts of Vandalism
Deter More Graffiti
Maintain the Original Exterior
Improve the Look
Attract Customers
Quickly responding to graffiti by having it removed sends a clear message to vandals and prospective customers - that you mean business. You're letting taggers know you won't stand for vandalism.
You're also demonstrating to your potential clients that you take your business seriously, including your storefront appearance. Besides, the quicker you remove unwanted paint from your walls, the less likely that they'll suffer permanent staining and damage.
Graffiti Can Happen Anywhere - Here's How to Respond
Acts of vandalism, like graffiti, can happen anywhere, not just big cities. So, don't be surprised when you show up for work one day and find your building has been hit with it.
You can and should respond accordingly and call us to schedule professional exterior cleaning work. While you're at it, schedule a building wash and improve the look of your business altogether.
Dirty exteriors attend to attract negative attention, including graffiti. If you stay current with an exterior cleaning plan, you'll help deter vandals from striking.
Keeping a tidy building exterior also helps attract customers instead of criminals. We'll help you make a plan of action that will keep your commercial property clean, from the parking lot to the storefront.
Don't keep putting it off, or you'll end up attracting more. Call our team today and get the expert graffiti removal you need for your business in Huntsville or smaller nearby towns.
---