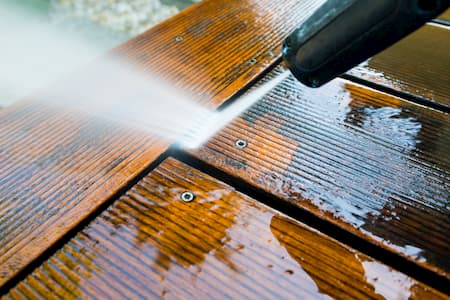 We offer deck cleaning for Huntsville customers who want undeniable results. Thorough exterior cleaning service offered by our team at ProWash Exteriors kills and cleans organic growth from surfaces.
We're not just talking about a pretty deck, here, although that's a benefit as well. Professional deck cleaning should restore your deck to good as new condition, adding years to the lifespan.
That's the difference between hiring pressure washing specialists or letting a power washer spray the surface of your exterior. We're skilled pros offering local homeowners high-quality deck cleaning, and you could be next.
Wood Brightening: Removing Years Of Aging From Wooden Decks
Imagine settling for average deck cleaning, instead of the superior cleaning and wood brightening service we offer. This will knock years of aging off of old wood decks - it's ideal for fence cleaning too.
This service is highly recommended if you're planning on sealing or staining the wood after cleaning. We offer this service as an add on in conjunction with our standard deck/fence cleaning.
Some things to keep in mind:
Cleaning should be done regularly
Protects from harsh environments
Enhances the natural beauty of the wood
Break up and remove these contaminants
Prevent unnecessary repairs and extend the longevity
Home improvement stores sell pressure washing equipment and wood brightening products, but you won't end up with the same effects. Taking good care of your deck is something that's best left to the professionals.
Creating an Outdoor Living Space You Can Put to Use
Statistics indicate that too many homeowners end up not using their deck after the first 3-5 years. Sure, it's partly because the newness has worn off, but it's also because the condition becomes worn down.
Common problems that develop and complaints that deck owners have are as follows:
Protruding Splinters
Soft Spots in Wood
Slippery Surface Algae
Rotting Edges
Concern for Safety
Suddenly, the feature of your home that's supposed to be enjoyable and enable you to experience the outdoors is nothing but a hazard. You add it to your to-do list and then end up staying inside all summer.
Reclaim your deck and get back outside, enjoying the summer weather by letting us clean and condition your deck. Our wood brightening will make it look as though it hasn't aged a day.
Give our team a call right now and schedule deck cleaning for your home in Huntsville or surrounding areas.
---