Your Local Pressure Washing Company in Gurley, AL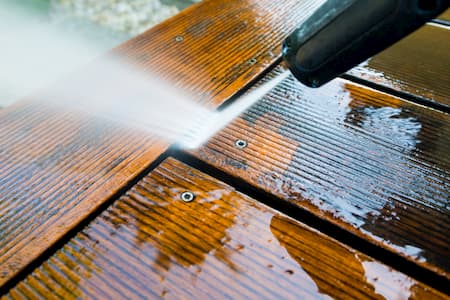 ProWash Exteriors is your one-stop-shop in Gurley for pressure washing. We offer both quality and quantity because we take care of the services our customers need and perform them with excellence.
We offer high-pressure cleaning for surfaces that require it. We can clean driveways, sidewalks, curbs, pool decks, patios, brick, pavers, and so much more.
If you own a home or commercial property in Gurley, then you need to call us for your exterior cleaning. We go above and beyond to provide our local clients with superior service.
Gurley's Leading Option for Roof Cleaning Services
There's standard pressure washing, and then there's soft washing. It would be best if you only worked with a professional company that offers both because there's more than one way to clean the exterior of your Gurley home.
Our soft washing process uses very low pressure to apply and rinse a proprietary blend of detergents and surfactants to the surfaces being cleaned, without the risk of damage to the area. It's the preferred method for cleaning roofing and siding, and it's ideal for eliminating:
Gloeocapsa Magma
Algae
Mildew and Mold
Pollen
Stubborn Stains
Other companies are still taking risks with the exterior of your home by using harsh cleaning methods. There's no room for error or taking chances when it comes to caring for your home.
There's no acceptable amount of collateral damage just to try to clean the exterior of your home or business.
Our commitment is to job safety and customer satisfaction. We've earned the impeccable reputation that we have by taking good care of our local clients.
Schedule your soft washing with us today and restore the look and condition of your home. You'll quickly see why this service is so important to make part of your maintenance routine.
Pressure Washing Experts in the Gurley Area
Getting the best service around from a local power washing team is all about screening the possible candidates. Although we know we're the best at ProWash Exteriors, we want you to reach that same conclusion.
As part of your interviewing process, look for professionals based on:
Positive Reviews and Feedback
Safe but Effective Cleaning
Variety of Quality Services
Starting With Free Estimate
Focused on Customer Satisfaction
Locally Based Company
While we may not have the established history, some of the competition does, we make up for it with professional history. We've been working in the industry; it's just the company name that's newer.
You'll feel good about working with us. Call today to schedule your Gurley pressure washing and improve your home or commercial facility.