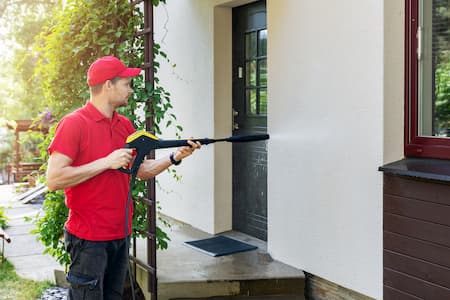 ProWash Exteriors want you to do more than imagine what our storefront cleaning could do for your Huntsville business; we want to show you. We're more than just experts in pressure washing, although that title fits too.
We're specialists for exterior cleaning, including helping to make your commercial building look as good as new. We'll attract new business and help you maintain your existing customer base.
There's no way to deny the power of professional storefront cleaning for your local business. Don't take any chances when it comes to caring for your business, inside and out, or it will start showing in your decline in revenue.
What Your Commercial Storefront is Saying to Your Customers
As much as you may want your business inside to make the first impression on your prospective clients, it starts on the outside. From parking lot cleaning to professional storefront cleaning, neglecting your exterior could have severe consequences for your business.
How can you get clients to move inside and see your impressive interior, if they can't get past an unsightly exterior? Are you turning customers into revenue dollars - for your competition?
Your entryway may even have stunning window displays, but the filth is all anyone will notice. Scheduling service for the upkeep of your commercial facade helps in more ways than you realize:
Remove Years of Filth
Eradicate Graffiti and Rust
Demonstrate You Care About Your Business
Remove Possible Health Hazards
Let Customers Know You're Still in Business
The sole purpose of your storefront is to attract attention and lure in business. If you fail to take care of it, it's a missed opportunity.
You could actually be sending customers away from your business and possibly straight through your competitor's front doors. Contact our crew for service or a free estimate and learn more about how we can help you.
Removing What's Tarnishing Your Storefront
When was the last time you took a good, honest look at your shopfront's current condition? More than likely, you're overlooking the filth that's collected from:
Car Exhaust
Chewing Gum
Bird Droppings
Trash Overflow
Spilled Soda, Juice, or Coffee
Everyday wear and tear alone can take a severe toll on the outside of your building. Stop ignoring it and let us clean it for you.
Make the call today for our free estimate or arrange for storefront cleaning for your Huntsville business.
---