Hazel Green's Leader in Pressure Washing Services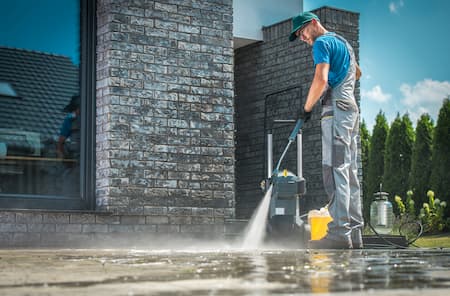 ProWash Exteriors is the new kid on the block when it comes to professional pressure washing in Hazel Green, but that doesn't mean we lack experience. Our company owners and operators, Mike Parks and Trey Johnson, have plenty of industry expertise and lead a team with the same credentials.
You'll be getting the expert service that you deserve, and our primary focuses are on customer satisfaction and job safety. Our expert cleaning approach is how we've earned the flawless reputation we have in such a short amount of time.
There's no reason to settle for less than the best when it comes to cleaning the exterior of your home or business. You can trust our team to go the distance when it comes to professional results from a local power washing company.
Hazel Green Roof Cleaning That Makes a Difference
When it comes to roof cleaning, do you know who to call in Hazel Green? Sure, plenty of companies offer this as an optional service, but few execute it with the right amount of care and precision.
It starts by making sure the company that you choose uses soft washing for roofing instead of power washing. Otherwise, it can cause unnecessary damage to your rooftop.
What's the point of having a spotless roof that also happens to be damaged? Even worse, what's the point of paying someone to clean your roof if they're also going to damage it?
We rely on soft washing because:
Safer for Delicate Materials
Just as Effective
Uses Proprietary Blend of Detergents
Prevents Water Intrusion
Destroys Bacteria and Prevents Regrowth
Pressure washing is ideal for blasting away dirt; it's the perfect cleaning approach for surfaces like concrete. However, it's not the same method that should be used for areas like rooftops.
Pressure Washing for Homes and Businesses in Hazel Green
At ProWash Exteriors, we try to offer both quality and quantity. That means you can get all of the exterior cleaning services that you need in one place, without compromising quality in the process.
Contact when you need to schedule services, such as:
Fence Cleaning
Graffiti Removal
Building Washing
Driveway Cleaning
Storefront Cleaning
And More!
We want to help locals achieve cleaning success for their residential and commercial properties. You can expect the same great service from us for all of your exterior surfaces.
We're here to help you protect and beautify your home or commercial facility, from the outside in. Make the call today, and you'll be on your way to the best pressure washing there is in Hazel Green and beyond.