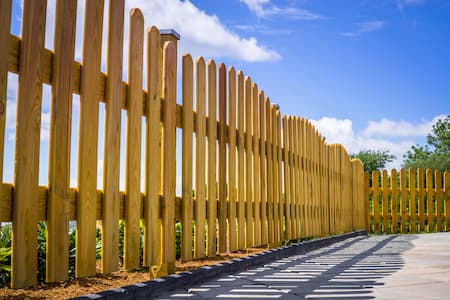 The ProWash Exteriors company name may be new to the Huntsville area, but our team's extensive previous experience isn't, and that includes superior fence cleaning. We already offer the best-rated pressure washing, but we also make sure that it includes the many types of services that you could need.
Like with our professional deck cleaning, this kills and cleans organic growth from surfaces. Your wood fence has a hard job to do and standing up against Mother Nature every day is tough enough.
Help your fence fight the good fight by taking care of it with maintenance and regular care. As part of your ongoing maintenance regimen, make sure you add professional fence cleaning to the routine.
Wood Brightening: Wash Away Years Of Weathering From Your Wooden Fence
At ProWash Exteriors, we're proud to offer fence cleaning, except we take it to another level. We offer a more niche specialized service known as wood brightening. This will knock years of aging off of old wood decks and fences.
It's recommended, especially when you're planning on sealing or staining the wood after cleaning. This service is offered as an add on in conjunction with our standard deck/fence cleaning.
Although homeowners have tried DIY methods using harsh chemicals and bleach, nothing gets long-lasting results like the service we offer without compromising the wood's integrity. Plus, this delays any immediate return of algae, mold, and other unwanted organic growth. Our work helps combat the most destructive components your fence will face:
Natural Aging Process
Weather and Harsh UV Rays
Mold and Algae
Exposure From Worn Stain
Splintering or Warping
Pressure Washing Benefits for Fence Cleaning
No matter what type of wood you use or how well it's built, your fence is not immune to the elements. What if you could have a fence that's as good as new, without installing a new fence?
Our expert fence cleaning service can provide that for you. The cleaning we offer will:
Restore the Appearance
Make it Look Younger
Increase the Property Value
Be a Selling Point
Be Prepared for Staining
Weather, mold, and bird droppings are a few of the things that can take a toll on your fence. Right now, your fence is in a state of disrepair and has become the focal point of your landscaping.
Our work will put it in the spotlight, but for all the right reasons. Call us today to get the best fence cleaning for your Huntsville home.
---