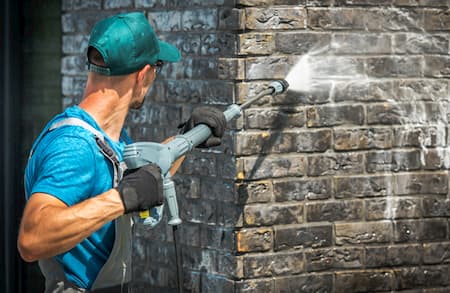 ProWash Exteriors was started by business partners Mike Parks and Trey Johnson, but don't confuse a newer company with a lack of experience. Our entire team, from the founders to the technicians, have the expertise needed to offer the best building washing in Huntsville.
Professional pressure washing is an essential part of regular maintenance for a business. Keeping your exterior clean isn't just good for the building; it's good for business.
With so much to take care of, you certainly don't have time to clean your exterior on top of your long list tasks that are part of your daily operations. Call us to schedule an appointment for your building washing.
Show Your Customers That You Care With Commercial Building Washing
It's a mistake to overlook the value and importance of storefront cleaning and building washing as a regular part of your commercial maintenance. You may be oblivious to the way it's making your building look, but you can bet your potential clients are noticing.
In fact, a dirty commercial space could be sending your prospective clients straight to your competition - and you wouldn't even realize it. Make it a point to make commercial cleaning a regular part of your maintenance routine to help with:
Improving Curb Appeal
Create a Healthier Environment
Demonstrate That You Take Business Seriously
Prevent Repair Issues
Save Money on Repairs
A neglected storefront doesn't just make a weak impression; it can make people question if you're still in business. Show the world that you care and that you mean business by taking good care of yours.
Caring For Your Business From the Outside In
Don't wait until your business looks bad to get around to scheduling your exterior cleaning. Once your exterior looks unsightly, you've already scared off more potential customers than you know.
There's a lot of things that can negatively impact the outcome of your business:
Dirt and Mud
Pollen and Allergens
Graffiti
Rodent Excrement
Chewing Gum
The longer that you ignore the mess, the worse it gets. Do yourself and your business a favor by taking action.
When you schedule regular exterior cleaning service with ProWash Exteriors, you stay ahead of the grime. This helps make a good impression, which directly impacts your revenue.
Not to mention, it boosts employee morale, which is also good for generating more income. Contact us now and make sure you're getting the best building washing that Huntsville has to offer. We're here to help you improve your business, and it starts from the outside.
---