Your Local Pressure Washing Company in Decatur, AL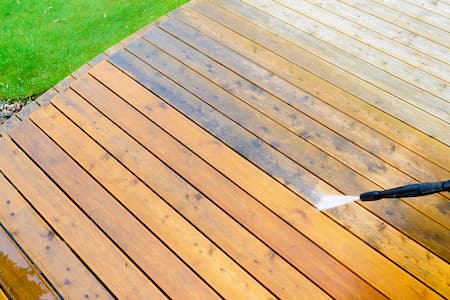 The owners of ProWash Exteriors are also the operators, so you know you're getting good service. As a professional team, we care about being the best resource for Decatur pressure washing.
We work with residential and commercial clients, always doing what it takes to go above and beyond to offer great service. It's our mission to help property owners understand why they should avoid DIY power washing or accepting inferior work.
There's no room for error, nor should there be any collateral damage in return for pressure washing. We'll take good care of your Decatur and provide you with safe but effective exterior cleaning services.
Top-Notch Roof Cleaning for Decatur Clients
There's a distinct difference between proper roof cleaning and improper roof cleaning. To put it simply, it's either soft washing, or it's wrong.
At ProWash Exteriors, we take care of our customers in Decatur and surrounding areas using soft washing to clean the roof expertly. Although power washing isn't appropriate for most roofing systems, it shrill needs cleaning to remove:
Algae
Fungus
Bacteria
Sap
Pollen
Nests/Webs
Traditional power washing is known to cause severe damage to roofing material often. It can rip away shingles or cause water intrusion, which leads to rot.
Using the soft washing approach makes a world of difference. This process uses very low pressure to apply and rinse a proprietary blend of detergents and surfactants to the surfaces being cleaned, without the risk of damage to the area.
Now ask yourself - which technique would you rather use on your rooftop? Don't let anyone clean your roof with the same methods used for concrete, or you're putting the first line of defense against the elements at risk.
Pressure Washing Pros Caring for Decatur Homes and Businesses
Both your home and business deserve the same level of expert care when it comes to pressure washing. We're the company that focuses on safe conditions and customer satisfaction, and we're eager to work with you.
Contact us immediately to schedule an appointment for service such as:
Graffiti Removal
Parking Lot Cleaning
Deck Cleaning
Gutter Cleaning
Soft Washing
We take precautionary measures to choose the best service based on the surface that's being cleaned. Otherwise, it's like taking a gamble with your exterior - and an unnecessary one at that.
Play it safe and let our company handle the work for you. We even offer specialized services like wood brightening, which helps set us apart from the competition.
Get in touch with us now and schedule pressure washing for your Decatur property.