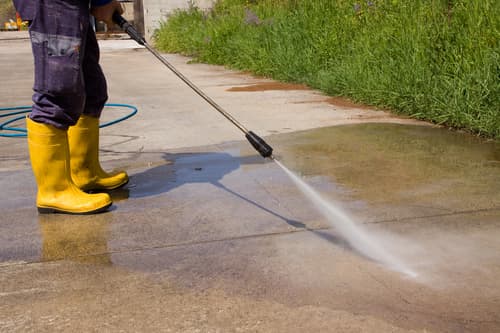 ProWash Exteriors is happy to help Huntsville locals with services like driveway cleaning. However, sometimes part of the job is making homeowners realize the value of such a service.
Yes, even the place where you park your car needs professional cleaning from a resource known for reliable pressure washing. Please don't make the mistake of thinking this is part of your home that you can ignore or neglect.
It's also crucial that you don't see this as the type of task that you can take care of on your own. Pressure washing and driveway cleaning aren't suitable for DIY projects, so leave the work to our team of experts.
Concrete Post-Treatment: Eradicate Mold Or Algae After A Deep Clean To Preserve The Effectiveness Of Concrete Cleaning
At ProWash Exteriors, we offer high-pressure cleaning for surfaces that require it. We can clean driveways, sidewalks, curbs, pool decks, patios, brick, pavers, and more.
Driveway cleaning helps with curb appeal, property value, and safety. Plus, our concrete post-treatment kills any mold or algae still present on the surface and will lengthen the time between needed cleanings.
No matter what the climate, concrete, and driveways require regular maintenance and cleaning.
Reduce Weed Development and Growth
Lower Risk of Safety Hazards
Improve Health and Indoor Air Quality
Prolong the Lifespan of Your Driveway
Efficient and Effective Cleaning Method
You can ignore the problem and know it won't go away on its own. Or, you can spend your entire weekend on your hands and knees, scrubbing at dirt and stains that won't go away.
The final option, and the best one yet, is to leave the work to us. We'll not only clean away existing grime and stubborn stains; we'll help reduce the chances of mold or algae returning.
Beneficial Cleaning Service to Improve the Look and Condition of Your Driveway
Ultimately, the goal is to find a professional who treats your fence cleaning (orange) work differently than your roof or driveway. Different materials and surfaces require different cleaning methods.
Don't let your filthy driveway become the focal point of your home's exterior. Our professional cleaning services will make a world of difference for the appearance and condition.
Just because your concrete is exposed to the elements, foot traffic, and vehicular traffic every day, doesn't mean it has to show. Schedule regular cleaning with us and take good care of your home with roof cleanings.
All you have to do is make the call today, and we'll be there to provide expert driveway cleaning for your Huntsville home.
---