Scottsboro's Leader in Pressure Washing Services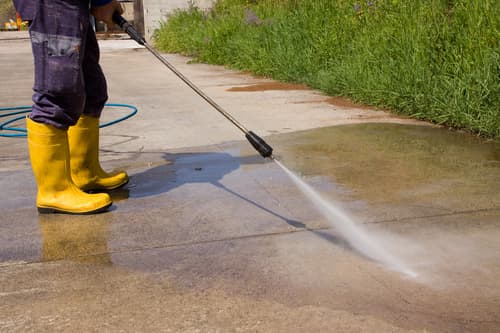 There's no need to worry when you've got ProWash Exteriors on the job. The company name may be newer, but our dedication to Scottsboro pressure washing isn't.
Exterior cleaning is our chosen field and something we've been working in long enough to become industry specialists. We've been doing whatever it takes to provide superior cleaning services to our customers, both residential and commercial.
We'll make your exterior look as good as new, helping improve performance and maximize longevity. If you're a home or business owner in Scottsboro, call us now to schedule your work with our team.
The Scottsboro Team to Trust for Superior Roof Cleaning
The first thing to know about roof cleaning is that it's unique from any other job type. That's as true here in Scottsboro as it is anywhere else.
Your rooftop requires a different method of cleaning than your deck might. Here are a few other vital pieces of information you should have concerning soft washing for your rooftop:
Roof washing shouldn't be a DIY job
A bacterium causes black streaks
Moss and algae diminish the look and condition of the roof
Standard pressure washing can harm the roof
Power washing can trap water under shingles causing rot
You can avoid all of this by hiring ProWash Exteriors to handle your job. We use care and caution for all the exterior cleaning work we do.
However, we rely on soft washing for safe but effective cleaning for more delicate surfaces, like roofing material. Please don't take chances when it comes to your roof - just call us for quality work.
Call ProWash Exteriors for Exceptional Pressure Washing in Scottsboro
How will you choose your power washing company? More importantly, how will you be sure that you've made the right choice?
The proof is in the outcome of the job, and we're known for superior cleaning. We offer our local customers residential and commercial services like:
Driveway Cleaning
Fence Cleaning
Building Washing
Graffiti Removal
Gutter Brightening
You can rest assured no matter what the job is; we'll execute it with skill and precision. Power washing can be a dangerous task, resulting in property damage, unless you hire the right company for the job.
On the other hand, a job well performed by professional pressure washers can make your home or building look new again. It's an essential part of routine maintenance.
Make it a point to call in our experts for cleaning that makes a significant difference. Call us now, and we'll set you up with a time for pressure washing or start with the free estimate for your Scottsboro home or business.